I will be on vacation for 10 days. I haven't seen my dad for over a year. No joke. The only reason I have seen my mom is because she came to visit me just a 1 month ago because I was getting really home sick. Hubby had to work on Christmas so we didn't go home. I miss my family something fierce. So, with that in mind, I just wanted to give you a heads up, I leave tomorrow:) Kim will still be doing her posts Wednesday and Saturday so you won't have withdraw from this wonderful blog;)
I have a treat for you when I come back. I am going to do a week of "Getting Organized" Where I will have helpful tips, free stuff, and guest bloggers. Hope to see you there! If you have any tips or tricks that have made your life easier, please share and get featured during this week long event! Spread the word, the fun starts June 6th!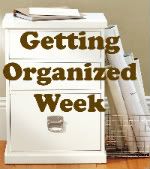 In the mean time to get you excited about the "Getting Organized" week I bring you
THIS
free printable.