Lately I have been featured on several blogs. YIPPEE!!!! I have forgotten some, but here are a few I do remember:
This is a new blog and she has been so kind to feature me twice! Check it out. It is a great blog.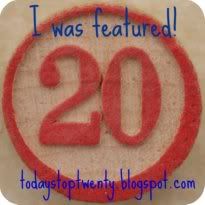 Totally Tutorials
,
Craft Gossip
,
One Pretty Thing
,
Hallelujahs By Holly, Easy Frugal Living, Avoiding the Laundry,
Just a special thanks to all the great blogs that have featured me. I am flattered and honored that you have included my projects:) Merry Christmas, Happy Holidays, Happy Hanukkah, or Happy Day!